Though most of the games and stuff I ordered from Amazon before Christmas Eve hasn't arrived yet, I managed to find some amazing deals in several gaming stores I never used to visit before. The one I always bought shit at raised prices like crazy and the place just isn't viable anymore for me. Luckily, there still seem to be owners around the city with brains in their heads that sell games at "reasonable" prices. For around an equivalent to 15 to 20 dollars each I managed to get all of these games:
- Shinobido 2: Revenge of Zen (Vita)
- Pokémon: White Version 2 (DS)
- Persona (PSP)
- Lego Star Wars: The Complete Saga (PS3)
- Killzone Trilogy (PS3)
- Mass Effect 3 (PS3)
- Dark Souls (Xbox 360)
- Star Wars: The Force Unleashed (Xbox 360)
- Star Wars: The Force Unleashed 2 (Xbox 360)
- Deus Ex: Human Revolution (Xbox 360)
- Otomedius Excellent Special Edition (Xbox 360)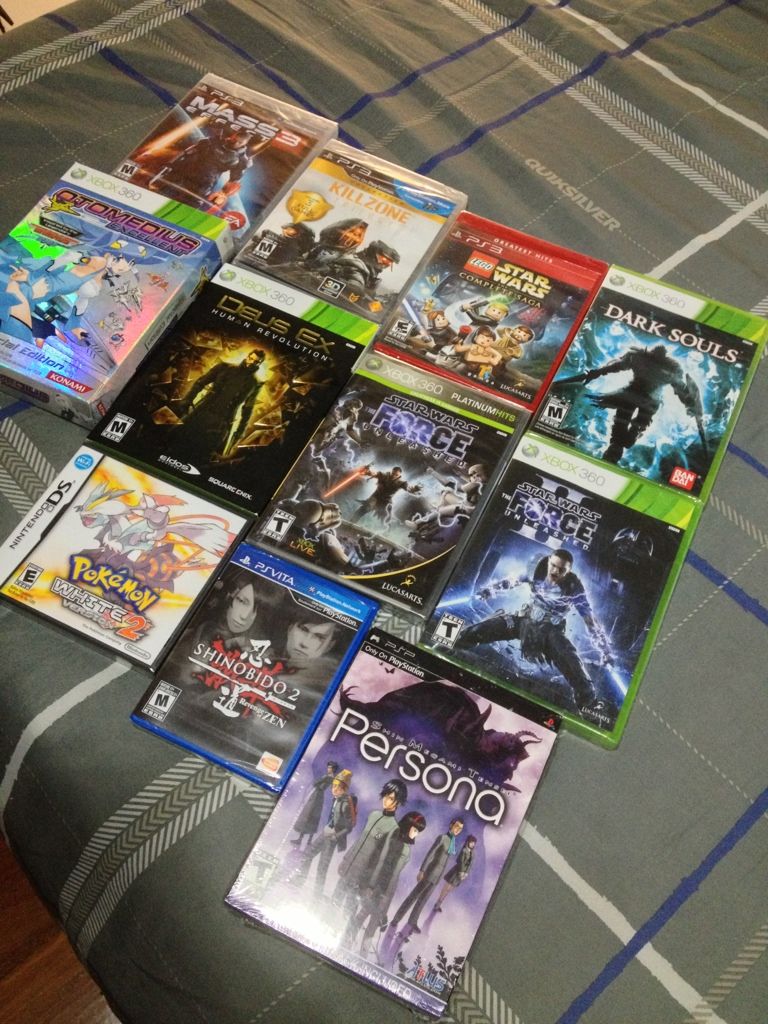 Deus Ex and Otomedius are actually two of the titles I got from Amazon which did get here rather quickly. The rest of that list was purchased at several different stores all over my city. Since I'm so hooked to Persona 4 (I have to make a post about some stuff on it) I decided to purchase the first game for PSP and now have the second and third in my wishlist too.
The three Star Wars games came because I simply... remembered I'm actually a huge Star Wars fan, thing that I don't think I've ever mentioned here. I watched the movies again, just like the old pre-Episode 3 Cartoon Network animated series and got hooked with the Expanded Universe by spending several hours reading tons of shit about it and updating myself on what is new on it.
I actually played Lego Star Wars several years ago when they first came out in PC (when I used to have a gaming-capable PC... 2005 maybe¿) and loved them so I'm going to replay the remastered version on PS3. And Force Unleashed, while I'm not expecting them to be on-par with Ninja Gaiden, I'm sure they'll be much better than God of War. Besides, I'm more interested in the story behind Starkiller.
With Mass Effect 3 and Killzone Trilogy I complete two great franchises still didn't own completely. I've only played Mass Effect 1 and Killzone 2 and liked them a lot so 2013 will be the year to complete both sci-fi trilogies. Dark Souls is more of a collection thing. If I had to be honest I'd say I hate Demons' Souls so I ignored Dark Souls until now (I got it because it was ridiculously cheap). I'll probably try it but I don't expect to get hooked by it.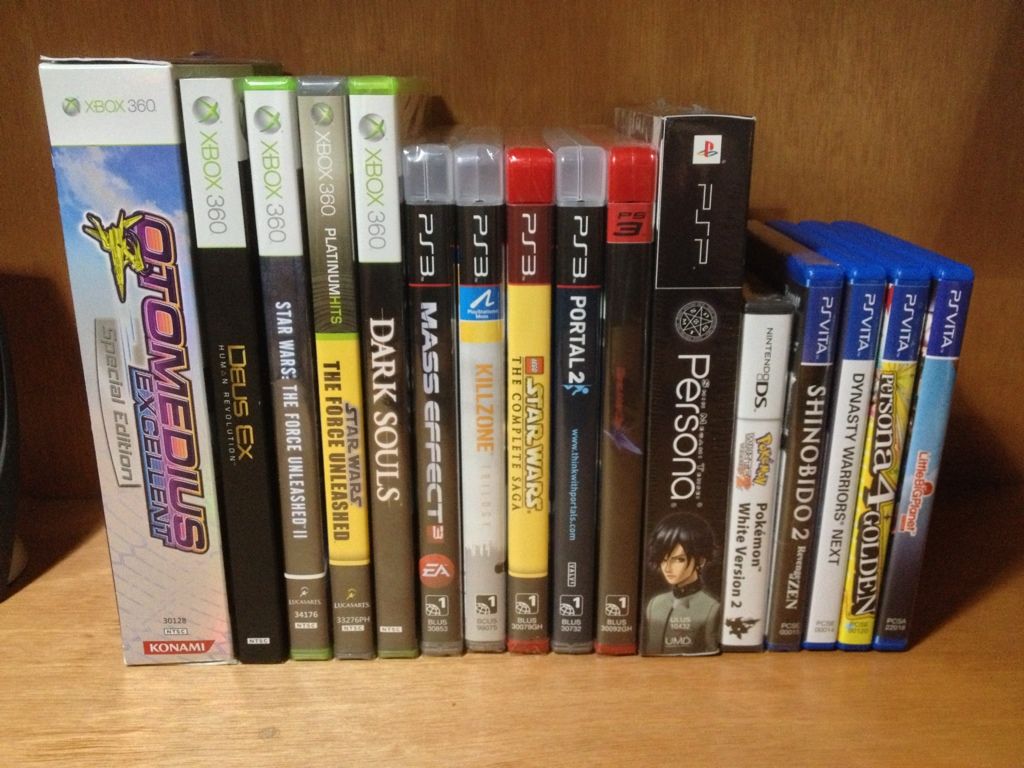 I'm still waiting for the following games:
- Code of Princess (3DS)
- Lollipop Chainsaw (Xbox 360)
- Rayman Origins (Xbox 360)
- Hatsune Miku: Project Diva f (Vita)
- Gods Eater Burst (PSP)
- Growlanser: Wayfarer of Time (PSP)
- Final Fantasy XII: Revenant Wings (DS)
- Dynasty Warriors: Gundam 3 (PS3)
That's eight new games, so I can definitely say this was an excellent Christmas for gaming purchases. Still, though I'm sure it doesn't look like it, not everything went according to plan because I left three games out because they were still at full price. They are Journey (PS3) (The physical copy that comes with Flower and flOw), Forza Horizon (Xbox 360) and Tales of Innocence R (Vita, Japanese import). I want Forza in Collector's Editon and it's priced at 72 or so dollars. With that money I could buy four of the other games. That's why I left it out. Innocence is at 78 dollars because I have to import it from Japan but I know I'll eventually get it. Journey is already at 30$ so I'll just wait a few more weeks for it to get to the twenties.
And well, that's it for now. I'll of course make a new post once the Amazon games get here. It should be during the week. I hope tomorrow. For now, I'll just keep playing Persona 4 Golden, Dynasty Warriors Next, Halo 4, Dead or Alive 5 and my other games.